"CAGED" —  A Theater Production About Incarceration, Saturday, May 19, 3 p.m.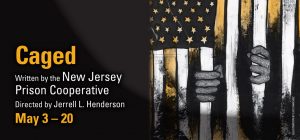 One struggle that often affects our urban neighbors is that of incarceration. We invite you to learn more about this subject as we as a congregation work to develop a job-training program for returning citizens as a part of our Community Well mission. "CAGED," a poignant production that explores the "black family's struggle with the generational cycle of mass incarceration," will be performed by the Passage Theatre Company at the Mill Hill Playhouse, 16 E. Hanover St., Trenton, NJ. Please join us for the show and for an informal meal and discussion at a local restaurant following the performance. We will be joined by one of the show's authors and performers as he helps us understand the needs of those returning to the community after incarceration. $24 per ticket for the performance; dinner afterwards will be purchased individually. Tickets will be available for sale after church on May 6 and May 13. For more information, contact Michelle Cash at mcash@communitywellnj.org.
Tickets are limited, so please reserve yours now.