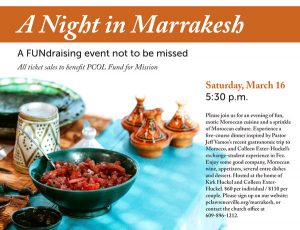 A FUNdraising event not to be missed! All sales to benefit PCOL fund for mission.
Saturday, March 16 | 5:30 p.m.
Please join us for an evening of fun, exotic Moroccan cuisine and a sprinkle of Moroccan culture. Experience a five-course dinner inspired by Pastor Jeff Vamos's recent gastronomic trip to Morocco, and Colleen Exter-Huckel's exchange-student experience in Fez. Enjoy some good company, Moroccan wine, appetizers, several entree dishes and dessert. Hosted at the home of Kirk Huckel and Colleen Exter-Huckel. $60 per individual / $110 per couple. Please drop off a check to the church, or click the button below to register via our online registration system, Realm. Questions? Contact the church office at 609-896-1212.