Worship Services
The Presbyterian Church of Lawrenceville offers a variety of worship services.
Sunday Morning Traditional Service
10am (9:30 July 1 through Labor Day) weekly in the sanctuary, or as we call it, the Meetinghouse. Childcare is available, and Sunday School for K-6th Grade usually takes place during the service. We livestream our traditional service each Sunday via Facebook Live, whether or not Covid conditions permit us to meet in person for worship. You can link to our livestream and download the order of worship here. Read more about the traditional service.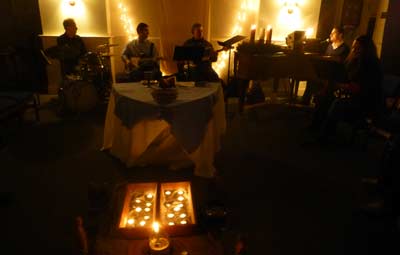 The Alternative Worship Experience (September through June)
Our Alternative Service is patterned after worship in the Reformed Tradition and represents a diverse worshipping community that seeks to find creative and different ways of worshipping with our whole selves. No matter where you are on your journey, there is a place for you in our community.
Children are welcome. If preferable, childcare is available. Read more about Worship in a New Key/the Alternative Worship Experience
Worship Recordings
If you'd like a preview of our Sunday morning worship, you can listen to service recordings here.
Weddings, Baptisms, and Funerals
The Presbyterian Church of Lawrenceville holds weddings, baptisms, and funerals for members of its own congregation and the community at large. Please see specific policies for each type of service.
Learn More About:
The Sacraments
Presbyterians observe two sacraments, Baptism and Holy Communion (known also as the Eucharist). We celebrate communion seven times per year at our traditional service and weekly at Worship in a New Key.
jeffvamos
Date night for parents. A blast for kids. Have a date-night while your children [...]
jeffvamos
The deed establishing the founding of the Presbyterian Church of Maidenhead (the original name [...]
jeffvamos
Join us for a joyous celebration of the Christmas story with special brass and [...]