Adult Choir
The Presbyterian Church of Lawrenceville has a long tradition of a vibrant and vital Music Program.
"To sing is to pray twice"
– St. Augustine
Music is a key part of our rich worship life and provides an excellent opportunity for active involvement of our members. We seek to assist our congregation in glorifying God through joyful praise and meditative prayer using the talents that have been offered to us. Opportunities are available for all interested persons, children through adults.
Our Ensembles
Adult Choir
The Adult Choir is made up of members of the congregation. This ensemble sings every Sunday morning during the 10 am worship service, September through May. The ensemble rehearses on Thursday evenings from 7–8 pm and Sunday mornings from 9:15—9:45 am. The Adult Choir sings a wide variety of music from Bach to Spirituals, from Gregorian Chant to Jazz. The ensemble prepares works with organ, piano and a cappella repertoire.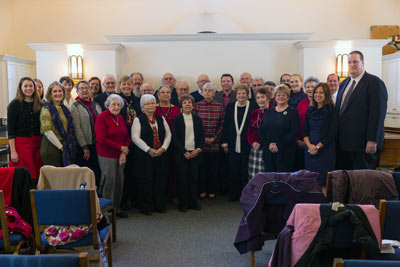 Lawrenceville Community Chorus
The Presbyterian Church of Lawrenceville is proud to be home to the Lawrenceville Community Chorus, a local community chorus that serves the greater Lawrenceville area. This group is comprised of members of the Presbyterian Church of Lawrenceville and interested members from the community. The Community Chorus work to present two major events each year: a holiday event in December, and a spring musical event/concert in May. This ensemble frequently performs with orchestra.
Past events have included A Service of Lessons and Carols and major works of Franz Schubert (Mass in G Major), Morten Lauridsen (Lux Aeterna), James Whitbourn (Song of God Mass, The Wounds and Missa Carolae), Ola Gjeillo (Sunrise Mass), Johann Sebastian Bach (Cantatas BWV 4, 61), Arthur Sullivan (Festive Te Deum), and the Requiems of Gabriel Faure and John Rutter. The Lawrenceville Community Chorus rehearses on Thursday evenings from 8—9 pm, October through December and February through May. Any person interested in joining this ensemble should contact James Moyer, Director of Music at PCOL.
The June Choir
The June Choir prepares music for the worship services during the month of June. This ensemble gives members of the congregation a taste of singing in the choir without all the pressure. The ensemble rehearses only on Sunday morning before worship, and not on Thursday evening. All members of the congregation, regardless of ability or experience are encouraged to come out and sing!
Summer Music
During the summer months (July and August) interested members are invited to offer their talents in worship. Through collaboration with one of our staff, singers and instrumentalists of all ages and levels are encouraged to offer their talents to God through worship. Please contact the church office for more information.
jeffvamos
Please join us for a community sing of Handel's "Messiah," December 6 at 7:30pm [...]
jeffvamos
Join the Lawrenceville Community Chorus! 2023 Season Rehearsals Begin October 5 Do you like [...]
aaronsizer
Community Sing of Faure's "Requiem" - August 1 Do you enjoy singing?  Join us [...]