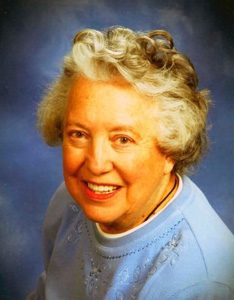 Diane Armington – member since 1965
Diane was born and raised in Buffalo, NY, where she earned a bachelor's degree in medical laboratory technology at the University of Buffalo and worked for a well-known researcher at Buffalo General Hospital. She met her late husband Jim through her church's adult fellowship group. Diane, Jim and their three children moved to Lawrence when Jim's engineering career took him to the former RCA Astro space satellite center in East Windsor. Diane and Jim raised sons Tom and Richard and daughter Susan here, and Diane resumed her career in the laboratory at St. Francis Hospital. Meanwhile, she earned a master of arts in teaching from The College of New Jersey and was hired by Mercer County Community College to develop and lead a new associate degree program in medical laboratory technology. She retired in 1992 after twenty productive years at MCCC.
Here at PCOL, Diane loved to sing in the choir, which she did for many years. In the community, Diane was a founding member of the Lawrence Township League of Women Voters and served as chapter president for many years. Diane has traveled extensively throughout the world, first with her husband Jim and later with her younger sister Pat. Now a resident of St. Mary's Assisted Living at Morris Hall, Diane enjoys being able to attend services most Sundays at her longtime church home.Diane looks forward to celebrating her 90th birthday on June 30th of this year.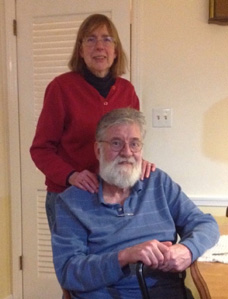 Sue and Dick Brown – members since 1989
Sue and Dick Brown met at a bookstore in Ithaca, NY when Dick was a grad student at Cornell University. Sue had grown up in Ithaca and Dick was from the Boston area. They joined the Presbyterian Church of Lawrenceville in 1989. They first visited Lawrenceville because they were curious about the many cars parked on the street; from their first visit, they found a community of like-minded worshippers. They started attending during the summer and were surprised by the large number of people who showed up in September.
Dick started teaching the preschool Sunday School class and they brought their three children, Jeffrey, Michelle and Robbie to the church. Dick and Sue missed the cry room in their previous church since two of their children were still quite small. They became active in the FourF fellowship group (Food, Fun, Fellowship and Food) and devoted many happy hours to that group over the years, helping to organize an Annual Hoagie Sale on Super Bowl Sunday to benefit the Youth Group, an annual Topless Dinner during the holiday season (don't look for evidence), outings at Hopewell Dessert Theater, several road rallies and games nights featuring Cosmic Wimp-Out.
After their boys were grown, Sue and Dick started attending WINK Services because their daughter Michelle enjoys the music. They have all been active in the Peacemaking Committee, often attending the Friday Movie Nights. Both Sue and Michelle have served as Deacons. After many years sitting in the balcony on Sunday morning, the Browns now worship on the main floor near the back on the Princeton side of the sanctuary.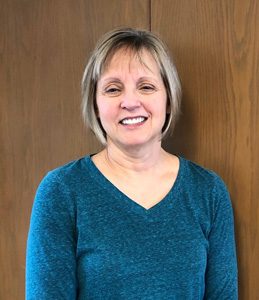 Loretta Chipin – member since 2009
Loretta is a ten-year member of PCOL. She and her husband, Mitchell, moved back to the east coast about 25 years ago after meeting, marrying, and starting a family in California. They are both from Pennsylvania and decided to move back after being in California for 15 years, to be closer to their parents.
Loretta grew up in York, PA where her parents still live. She started her nursing career at Bryn Mawr hospital many moons ago and has had an interesting career doing what she loves. Currently she works part-time as a recovery room nurse at Princeton Medical Center.
At PCOL Loretta is one of the "brass polishers" and also helps ensure that there are always some goodies at fellowship after church.
Loretta's interests include exercising, reading, quilting, cooking and travel. Since their son moved to California, she and Mitchell have enjoyed visiting the San Francisco Bay Area and Napa Valley.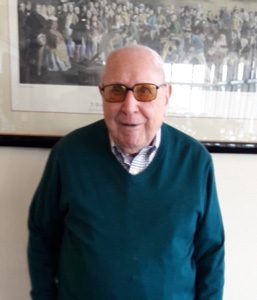 Bill Coleman – member since 1932
Dr. Coleman, at 99, is the oldest living male member of PCOL. Bill started going to PCOL Sunday School when his parents moved to Lawrenceville in 1923. Bill's father was a farmer and they lived in a house, which is still there, just south of Bristol-Myers Squibb on Route 206. Bill, who was a deacon and an elder, has seen the contributions a number of PCOL pastors – Rev. Park Richards, Rev. Allen Kimble, Dr. Dana Fearon and Dr. Jeff Vamos. Although Dr. Coleman lives at Pennswood Village in Newtown, he still feels a connection to PCOL since he worships with Matt Pigman, who is the minister there.
Rev. Kimble officiated at the wedding of Bill and his wife, Betty Overhold, in 1950. They had 56 years together before Betty passed away. Their five children and four grandchildren are spread across the country, but one daughter lives nearby.
Bill is a graduate of The Lawrenceville School (class of 1938), Princeton University (1942) and Temple Medical School (1945). He served in the Navy from 1946-1948. He practiced medicine locally, first as a general practitioner and then a surgeon.
During the Great Depression, Bill was a regular visitor to the PCOL manse. Bill's father struck a barter deal with Rev. and Mrs. Richards: Mr. Coleman provided food to the pastor and his family and the pastor provided Bill with lunch while he was a student at Lawrenceville.

Bill retired fully at age 79, but remains active. He doesn't miss many Lawrenceville or Princeton reunions. Bill continues to be a big fan of Princeton Tiger football.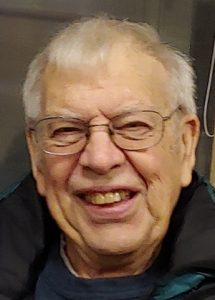 Bill Driver – member since 1973
Bill and his wife Carol married in 1957. He met Carol giving her a ride home from a church choir rehearsal, and the rest, as they say, is history. They moved to Ewing, NJ in 1965 and he has lived there ever since. Bill and Carol were active members of the church choir here at PCOL for about forty years. Bill's elder son Bill passed away in 2012, and Carol in 2013. Bill's younger son Tom and family now live with Bill in the house in which Tom grew up.
Bill has fond memories of singing under Gail Edwards' leadership and enjoyed the satisfaction of singing good and challenging music with her. He remembers a PCOL talent show fundraiser in which a group of men from the choir dressed in tutus as part of a gosling costume while they sang and danced.

Bill's pride and joy (other than his family) is the maroon 1933 Chevy sedan named Esmerelda that he restored. He took her all the way down to the original frame and then built her back up. He still occasionally takes Esmerelda out for a spin.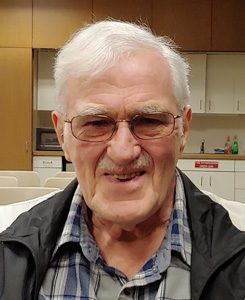 Wayne Edwards – member since 1973
Wayne and wife Gail married in 1959 and moved to Lawrenceville in 1970. Music brought them together and has been an important theme in his life. Wayne joined PCOL from First Presbyterian Church in Trenton in 1973, 10 years after Gail became the organist here. Gail then became the PCOL choir director in 1975. Singing tenor in choral ensembles, including the church choir, has been an important part of Wayne's life over the years. He recalls that under Gail's leadership the church choir sang the Brahms Requiem twice, once in German. He also recalls a talent show fundraiser at church when he sang in a barbershop quartet.
Gail passed away in 2015. Wayne has two sons: Paul, who owns his own dental lab, and David, who is a worship leader at Trinity Church in Greenwich, CT. He has 3 grandchildren: Zoe, Ryan and Jack. Wayne is a longtime sports enthusiast, cheering most loudly for the Philadelphia Phillies and Eagles. He also enjoys reading two daily newspapers from cover to cover, watching a good movie, gatherings of his church fellowship group, and concerts of the Philadelphia orchestra.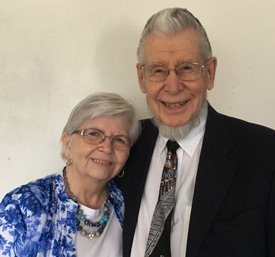 Jan and Marty Everett – members since 1980 (Marty) and 1993 (Jan)
Jan and Marty Everett took unique paths to PCOL. Marty was baptized as an infant at Trinity Episcopal church in Princeton. During his childhood in the "Depression days" his family lived in several homes in Trenton and the surrounding area. As they moved, Marty took it upon himself to always find a church within walking distance of home, and that's how he discovered the Presbyterian church. While working as an adult at the Lawrenceville School, Marty met former pastor Dana Fearon who introduced him to the PCOL community. He became a member in 1980.
Jan grew up in Philadelphia, in a staunch Salvation Army family. She was an active participant in that organization, including playing in one of the famous brass bands, through early adulthood. After moving to Bucks County where the Salvation Army community was less vibrant, she began attending Methodist churches.
Marty and Jan met each other through an adult singles' group. It was the first time either of them had attended the group, and looking back they see that God brought them together in the right place at the right time. Early in their relationship they alternated attending PCOL (where Marty was already a member) and the Methodist church that Jan attended, but eventually found themselves spending more and more time with our congregation. Jan eventually joined the church in 1993. They were drawn to the friendly and welcoming community here, and to the way that the ministry staff and congregation accepted and loved the many different viewpoints within God's community. They are pleased to observe that the same welcoming and accepting attitude continues even as the specific members of the community change.
Marty has served as a Deacon twice, and as a member of the Men's Group he's been involved in several repairs and upgrades to the church. He helped repair the bell-ringing mechanism in time for our 300th anniversary, and served as a bell ringer for many years. He also helped install the Bible/hymnal racks below each pew. Jan has served on Session, on the Mission Committee, and as a representative to the Presbytery. She also graces us with her voice as a member of the choir.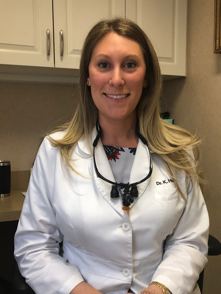 Kiersten Huckel – member since 1999
Dr. Kiersten Huckel has been attending PCOL since her childhood years. She was baptized here and attended Logos as well as youth programs. Behind her witty smile, light-heartedness and good humor, she is a very successful business woman. After earning a BA in economics from Trinity College, Kiersten worked briefly in marketing before deciding to pursue dentistry. She enrolled in and graduated from Columbia
University Post-Baccalaureate Premedical Program and then to Tufts University School of Dental Medicine where she earned a DMD degree and was a recipient of a Tufts Merit Scholarship, awarded to the top students in each class. Kiersten returned to her hometown, where she joined Princeton Center for Dental Aesthetics and Implants, the dental practice owned by her father, Dr. Kirk Huckel.

Last fall, Kiersten's now-fiancé Charlie proposed to her along the Arno River in Florence, Italy, at night under the archway of the Uffizi Gallery. Kiersten and Charlie will be married in June of this year. Kiersten enjoys reading, baking and Charlie's cooking!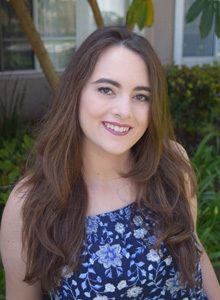 Morgan Leahy – member since 2009
The Presbyterian Church of Lawrenceville has played an integral role in Morgan's life. Growing up in Lawrenceville, Morgan's earliest memories include sitting in on the Children's Talk with Rev. Dana Fearon, playing a lamb (and falling asleep) during the Christmas pageant, and finding her voice while singing along to Here I Am, Lord. In high school, she was confirmed and shortly after, became a deacon. She sang and played the piano for Sunday morning and WINK services.. As an active member of the youth group, Morgan met some of her lifelong friends while also completing mission work. After she met the love of her life, William Baker, Rev. Jeff Vamos married the two of them on a beautiful, summer day at PCOL.
Once she became deaf, Morgan had a calling to serve and support students with disabilities. She resides in Los Angeles, California with her husband, where she is to complete her research on disability issues in higher education and graduate with her Master's degree from University of Southern California. PCOL serves as a source of inspiration for her and holds a special place in her heart. Morgan is proud to be a lifelong member of the church.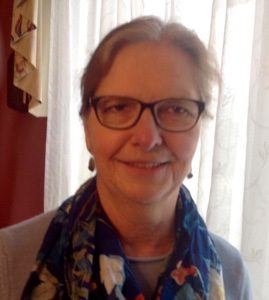 Sandy Lewis – member since 1985
Sandy Lewis grew up in Pittsburgh, Pennsylvania and attended the Methodist Church there with her parents and grandparents. She continued to attend church during college at Allegheny, where she met her husband, Dwight. (He had been following her to church and enjoyed the way her hair bounced.) During graduate school, they were married and they both worked with youth at a Presbyterian church with a dynamic pastor. The pastor convinced Dwight to attend seminary and they moved to the Princeton area so Dwight could attend summer school to learn Greek and Hebrew prior to beginning his education at Princeton Theological Seminary. During Dwight 's seminary training, he was an intern at Covenant Presbyterian Church in Ewing. While living in the Princeton area, Sandy reconnected with a former college friend, Onee Hertzog. Sandy attended to her growing family with daughter Dara joining them.
Dwight graduated and they all moved to Rochester, NY where Dwight served as associate pastor at Twelve Corners Presbyterian Church. The senior pastor moved from that church and Dwight was obliged to move as well. Dwight found employment with his considerable carpentry skills and they moved their family once again to the Princeton area, to their present home in Trenton, NJ on Cadwalader Park. Along the way they were joined by a son, Blake.
Sandy reconnected once again with her college friend, Onee Hertzog, who was working in children's music at PCOL and Onee invited Sandy and Dwight to visit there. Sandy and Dwight found a supportive and welcoming community for worship and attractive programs at PCOL, and joined the church in 1989. Their growing family was supported in Sunday School, at Vacation Ventures and in a Fellowship Group. Eventually they were joined by their third child, Connor.

Sandy has served on the Board of Deacons and she also taught Sunday School, usually working with the sixth grade. For many years, she taught at Villa Victoria in Ewing. On Sunday mornings, Sandy sits in the center section of the church on the Princeton side.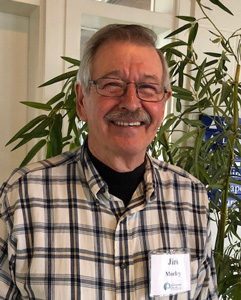 Jim Morley – member since 2009
Jim was born in Philadelphia, brought up and attended college in Bucks County, PA. While serving six years in the Navy he married his wife, Kathi. They will soon be celebrating their 51st anniversary. Jim and Kathi have two children and one granddaughter – all living in the Philadelphia area.
After the Navy they moved to NJ where Jim worked in horticulture for many years before starting his own business as a home improvement contractor. He retired after 22 years, leaving him more time for volunteer activities such as NAMI and Interfaith Caregivers, and hobbies: fly fishing, hiking and photography.

Jim joined PCOL when he and Kathi moved to Lawrence. Kathi is a member of St. Ann's. He has served PCOL as Deacons' president, as a member of the men's group and men's Bible study and on the fundraising committee. With an open smile, he can be found lending a hand wherever needed.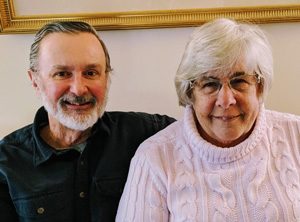 Denise and Bill O'Sullivan – members since 1978-79
Talking with Denise and Bill O'Sullivan, one soon learns that their family is the most important thing in their lives. They are parents to four adult children, three sons and one daughter, all of whom were baptized and confirmed at PCOL. In addition, they boast seven grandchildren and one grand-dog! Sadly, this crowd is not together often since they are spread throughout the United States – one family in New Jersey and the others in Utah, Texas and Boston, Massachusetts. Bill and Denise take every available opportunity to visit, of course.
When asked how they came to PCOL, Bill and Denise share a smile. They had moved to a house in southern Lawrence Township and spotted a Presbyterian Church not far away. Bill called for information and didn't realize he had called the "wrong church." However, after a very pleasant chat with Dana Fearon, Bill decided that PCOL wasn't that far away after all, and so the O'Sullivans have been members of PCOL for 40 years.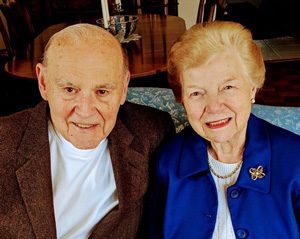 Janet and Frank Reiche – members since 1990
Janet and Frank Reiche met while college students and married soon after graduation. Frank was in the Navy and worked for the CIA which took them to Washington, DC. Janet soon began working for the Senator from New Jersey, which she enjoyed very much. When Frank decided to attend Columbia Law School and Janet enrolled at Columbia Teachers' College, the couple moved north and later settled in Princeton after Frank joined the law firm Smith, Stratton, Wise, Heher and Brennan. Both Frank and Janet became very active in politics.
Then it was back to DC when Frank was appointed to the Federal Election Law Enforcement Commission. And after that? Back to New Jersey! Frank and Janet have lived in several towns in this area, although never Lawrenceville, but they were personally acquainted with Dana Fearon so they decided to join PCOL. They continue to enjoy the friendliness and Christian attitude they find in the congregation and are especially impressed by the outreach programs at PCOL.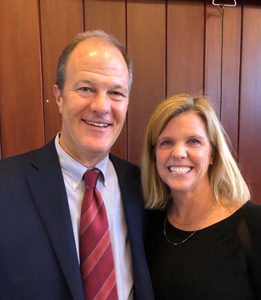 Wendy and Ted Simpson – members since 1999
Wendy and Ted have been members of PCoL since 1999. They have lived in their 1908 house for all but three of those years, when they temporarily moved outside of Toronto, Canada on a work assignment. They happily returned in 2011 to the house on Monroe. Fun fact: their house was previously owned by Kay Danbury, so they were destined to become PCOL stalwarts.
The Simpsons are among the most active and dedicated of PCOL families. When the children were very young, Wendy served as the nursery school's president. Many years later Wendy returned to serve on the board of the preschool to shepherd it through a period of transition, bringing Allison Young on board as director and launching many new and innovative projects, creating a vibrant and caring school for our youngest students and a place of friendship and fellowship for parents of those children. Wendy also volunteers her time to serve as a mentor in the newly launched CookWell program. Ted is currently serving as a deacon as well as the liaison to the session.
Many PCoL members have come to know Wendy and Ted as the dynamic co-chairs of the Capital Campaign alongside Steve and Nancy Jusick. They have brought their special brand of enthusiasm and dedication to the task, recruiting members to visit families in their home, making a very personal appeal for their support. Their work on the capital campaign continues to this day, ensuring that the congregation is fully informed about dollars raised and the focus of the project as we move forward. They are also working with Temple Micah to reach out their congregation for support. This is not Wendy's first time in this role as she was the co-chair for the last capital campaign.
In addition to her work with the church, Wendy has volunteered as a CASA, a Court Appointed Special Advocate, for the past 2 ½ years. Wendy says she first heard about the work of a CASA from Skip Conover who spoke about his CASA work and urged others to consider taking the training. For the past year Wendy has also served as a peer mentor for 7 CASAs.
Wendy and Ted have three children who have all been raised in our church. Haley is 19 and attends Lafayette College. Haley attended the PCoL nursery and was the catalyst for Wendy's leadership within the school. Haley now rows crew at her college. Tucker is 17 and is a junior at Lawrence High School. He too attended the church's nursery school. Tucker plays ice hockey and lacrosse. Megan is the youngest at 14 and is in the 8th grade at Lawrence Middle School. Megan plays soccer, lacrosse and swims. The final "sibling" in the family is Norman, the one-year-old lab, who, according to the Simpson children, is Wendy's favorite child.
Blest be the tie that binds our hearts in Christian love;
The fellowship of kindred minds is like to that above.
Before our Maker's throne we pour our ardent prayers;
Our fears, our hopes, our aims are one, our comforts and our cares.
We share our mutual woes, our mutual burdens bear,
And often for each other flows the sympathizing tear.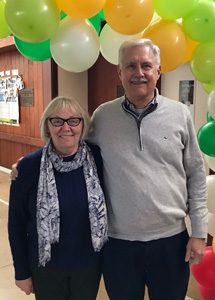 Nancy and Jim Stocking – members since 1979
Nancy and Jim Stocking settled in the area after Jim finished a year of postdoctoral study abroad in Sweden and was offered an engineering position at Western Electric ERC in Hopewell. They originally were living in West Windsor at the Princeton Seminary housing and attended the Nassau Church. After the birth of their second daughter they moved to Yardley, PA. Not finding a church to their liking and at the suggestion of friends, they tried PCOL. They found Dana Fearon's preaching both meaningful and inspiring. They were also impressed with the music program and remain so to this day. One of the best things to happen was becoming part of a church fellowship group. After 30 years the group still meets during the year, and the members have become their best friends. Jim likes the idea that while the individuals in our congregation, have different backgrounds, experiences and views of the world around us, we still are able to join together to worship as one!
Both their daughters Jenn and Abby were brought up in the church and continue in their Christian journeys. Nancy taught Sunday school for many years and has fond memories of the Women's Association which hosted the annual Spring Luncheon and Fashion Show. Both Jim and Nancy have served in all the church leadership roles. Jim remembers getting to know the staff in the office through his help with the church's computers. This work led to Jim's involvement with the Charlotte Newcombe Foundation in Princeton, where he still works part-time. Nancy is enjoying being on one of the Monday morning counting teams. These days they both enjoy traveling, especially to the Seattle area to see Jenn, her husband Brett & the three grandkids and to Reston, VA where Abby lives.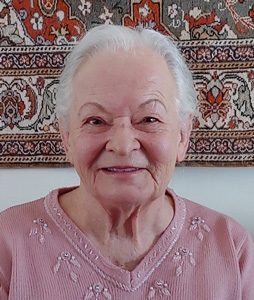 Claire Stuebben – member since 1992
Claire and husband Robert moved to Lawrenceville in 1969 when their two sons, Gerhard and Kurt, were junior high school age. There was a train that ran nearby behind their home. The engineer would sometimes stop the train and invite her train-loving older son, Gerhard, to hop on board for a Lawrenceville Fuel Company bound ride. The Stuebbens formerly lived in Boca Raton, FL, Levittown, PA, and Ewing, NJ. From Robert's training and experience as a master pastry chef, a dream was cultivated by Claire and Robert to open a bakery. This dream became reality for 28 years when they opened and ran the Village Bakery on Gordon Avenue (now the Gingered Peach). Coincidentally, it has now been 28 years since she and Robert retired.
Claire shares the insights that it is important to like what you do, to respect your spouse, and to be open to learning new things about each other. Claire has fond memories of teaching in the LOGOS program at PCoL and has always enjoyed teaching Sunday School to children. She especially remembers teaching lessons on sharing and the woman washing Jesus' feet. It was important to Claire and Robert that their sons attend Sunday School as well. Claire enjoys spending time with friends and family and is an avid reader, having just read a fascinating book about John Quincy Adams.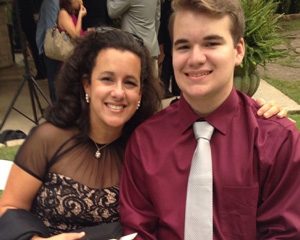 Holly Tkacs – member since 1979
This vivacious gal, a lifetime member of our church, was baptized by Dana Fearon and became a member when she was 15 years old. When asked what this church means to her she said, "I no longer live in my childhood home, but this church is my home. It's where I grew up and made memories. I still brag about how historical this church is." If any of you have had the privilege of hearing Holly give testimonials from the pulpit about this, you know how easily she brings a smile to your face while bringing tears to your eyes.
Holly and her husband Mitch were also married by Dana Fearon. Although not a member, Mitch attends services when he can. After his heart surgery and leg amputations several years ago, Jill Cifelli, Matt Pigman and Jeff Vamos visited with Mitch and delivered much-appreciated meals – and cards of support continue to be sent. Holly feels that this nurturing and caring are what church is all about.
It is no surprise that with her engaging and kind personality Holly has served as a Deacon. With her warm smile and can-do attitude, she brings the idea of "once a Deacon always a Deacon" to her current service as an Elder, where she is chair of fundraising for local missions.

Holly is proud that their son Matthew (in the photo with her) joined the church in 2015. He is currently a college freshman and still a faithful young man.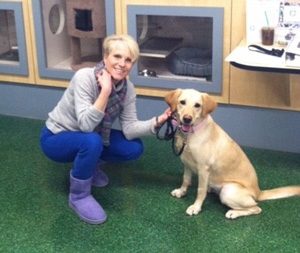 Laura Winroth – member since 2009
This perky gal can often be found on Sunday mornings ushering at church. You will also see her wearing the orange badge of a hospitality minister. Any new or prospective church member would get a fabulous introduction to our church from Laura. And for the past few years she has been chair of the bake sale table at the Fall Fest, so get your best recipes out.
Originally from East Brunswick and a graduate of West Virginia University, Laura moved to New York City where she became executive vice president of a marketing firm. Being a commuter allowed her to own a horse and pursue her passion for competitive riding.
Although her horse has passed on, Laura, now a realtor, still rides for pleasure. She likes to travel, work out at the gym and can often be found walking in the park with her best friend Charlotte, a yellow lab.