Yesterday, I spent the blur of hours on planes and in airports getting to know my fellow travelers and reading up on the history of Liberia. So, a bit about both items.
First, my fellow travelers. I am participating in this experience at the invitation of Princeton Theological Seminary, one of three co-sponsors of the "Afterlives of Slavery" conference, along with the University of Liberia and the Smithsonian Institution's African American Museum of History and Culture. The conference consists of about five faculty, two pastors (yours truly and the Rev. Darrel Armstrong), and five students. Most of the faculty are offering papers, and the Pastors and Students will present as part of a panel. (I will be sure to write more about my presentation in a future post). As the theme implies, the focus of the gathering is to reflect on Liberia and how it represents many aspects of the "afterlife" of American slavery.
Next, a bit about the basics of Liberian history, in brief. I've rendered this via bullet points in service to such brevity.
The nation called Liberia is the creation of the American Colonization Society (ACS) whose aim was to send free blacks back to Africa to establish their own nation.
Isaac van Arsdale Brown, our first full-time Pastor, was a founder of the American Colonization Society.
The first settlers arrived in Liberia in 1820, overseen by agents of the ACS, which governed it as a colony until Liberia's independence in 1847.
The former slaves who ruled Liberia largely re-created the plantation system in the South that had enslaved them, treating the indigenous people in largely the same way.
These "Americo-Liberians" governed the country, largely excluding indigenous populations from the political system, until 1980, when Samuel Doe staged a coup and killed then-president William Tobert and his cabinet via firing squad.
In 1989, a rebel leader named Charles Taylor overtook the country and its capital, Monrovia, killing Doe and civil war ensued.
The civil war was exceptionally brutal, and destroyed many of the institutions that had prospered under the previous political system.
The civil war ended in 2003 when a peace agreement was signed, and UN peacekeepers enforced the truce.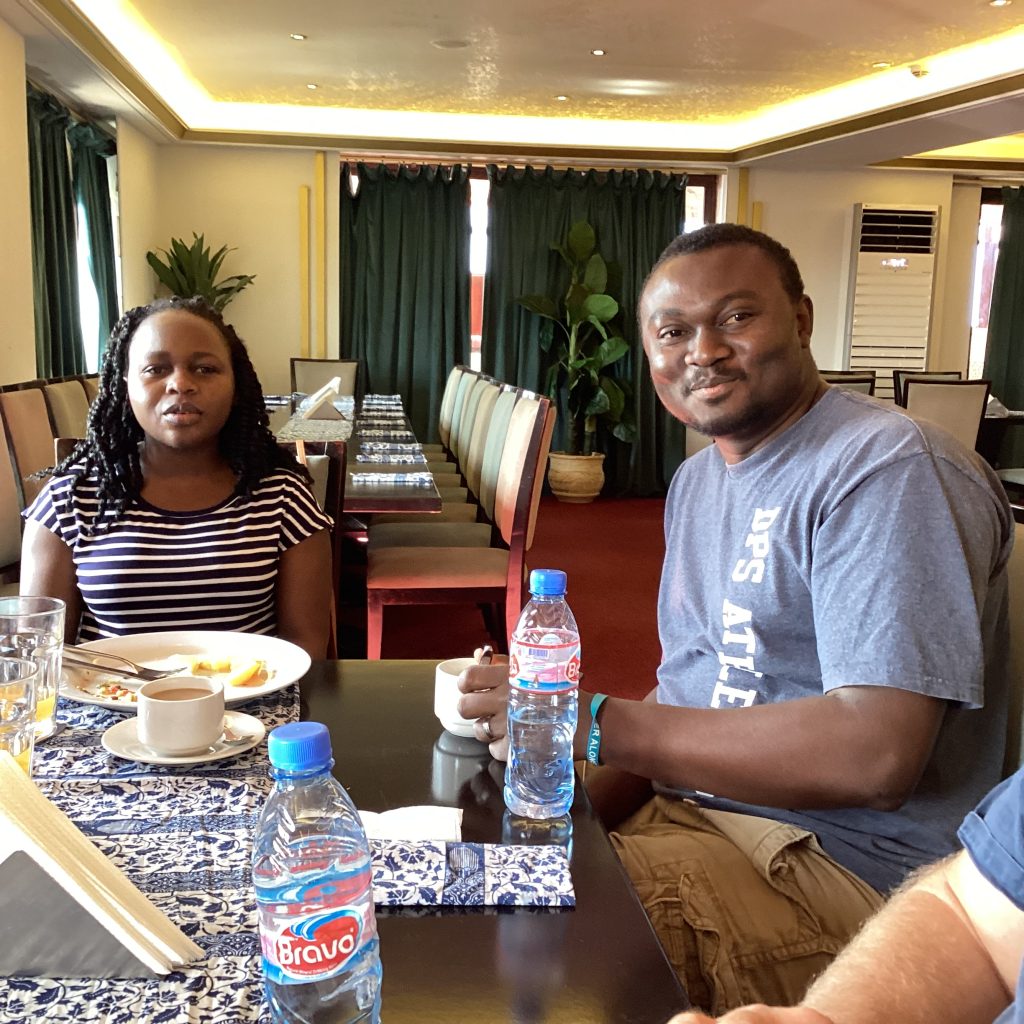 Israel, one of the student members of our delegation, spoke last night about growing up in Nigeria. His father was a member of the Economic Community of West Africa Monitoring Observer Group (ECOMOG) peacekeeping force that sought to promote stability during the Liberian civil war.