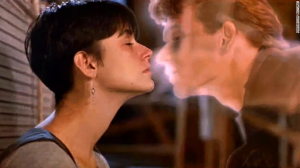 If you've seen the movie Ghost, (1990), you know it's about a husband (Patrick Swayze) trying to communicate "from the other side." A ghost, he now desperately seeks to let his wife (Demi Moore) know not only how much he loves her, but also the information that will save her.
That's an apt image to think about the narrative of scripture: God is trying to communicate not only a divine love, but what will save us. What if God is trying to communicate with you? How do we pay attention in an age of distraction, when God is seeking to communicate to us, a message of love, a message that will enable us to live?
Sermon on June 3, 2018. 1 Samuel 3:1-10. The Rev. Dr. Jeffrey A. Vamos preaching.