Staff Transitions
By Jeff Vamos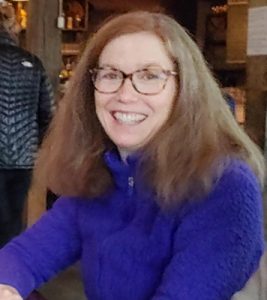 As we have noted in previous newsletters, we bid a fond farewell from a staff role at the end of June to Jill Cifelli, who has served our church so faithfully for twelve years. It goes without saying that Jill has made a lasting mark on the ministry of this church and has ministered to countless persons during her time here. Jill looks forward to where the spirit calls as she remains a member here at PCOL and as she explores work that will continue to connect her with the lives and needs of people, a new career trajectory in court reporting.
As Jill leaves, we will be making a smooth transition in her work, as The Rev. Dr. Janet Macgregor Williams, who has been worshipping with us for the past several years, will be taking on her role as the Interim Associate for Pastoral Care Ministries. Janet is coming out of her retirement to fill this role, having served as the pastor of several Presbyterian churches in various locations in New Jersey. She is married and has a son; Janet enjoys traveling and all manner of handicraft. We are grateful to receive Janet's gifts in this new role.
In addition, there are a few other staff transitions that will be happening over the next few months; Alison Young, the Director of the Lawrenceville Presbyterian Preschool and Beverly Mills, our Office Manager, have both announced their retirements.
Bev Mills has been our Office Manager for nine years and has indicated that she will be retiring on October 1. Bev, a member of The Hopewell Presbyterian Church, has served PCOL not only through her administrative skills, but has also contributed her knowledge of the Presbyterian Church and her wise mind in helping the staff make key decisions. She has become a beloved member of our church staff and will be missed. She looks forward to taking time to travel with her husband Michael, an architect, and spending time with her children and grandchildren. Bev has stayed a bit longer than she might have to see the church through during my sabbatical and to support Kyle as acting Head-of-Staff during that time. We will schedule a time to honor Bev's work in September.  The Personnel Committee and I will be working on hiring her replacement in August/September.  If you know anyone who might be interested in this position, please have them contact Ann Wiley (awileyemail@gmail.com), chair of Personnel.
After eight years as the Director of the Lawrenceville Presbyterian Preschool, Alison Young will be retiring from that post this spring to spend more time with her hobbies, her grandchildren, and her new Golden Retriever puppy, Peach. Alison has done a fantastic job stabilizing and building up the preschool over these years, as she has also brought its program in closer relationship with the church's ministry. She too will be missed.
Alison will be replaced by Mary Traub as Interim Director. Mary has been on the teaching staff of the LPP for the past two years and comes with a wealth of experience in preschool education. She served as the Director of the Child Development Center of the Princeton YWCA, and of Youth Development and Curriculum at the YMCA in Princeton. She is also currently working toward her doctorate in Early Childhood Education.
Please join us as we celebrate Jill and Alison on Strawberry Sunday, June 6.
With Jill, Alison and Bev all leaving around the same time, we of course are filled with sadness and perhaps a bit of anxiety as such key staff people leave their posts. However, God has always seemed to provide for us, in guiding wonderful new staff persons who complement our staff culture, and we look forward to letting you know about that as it develops.