An Update from Rev. Dr. Karla Ann Koll
Serving in San Jose, Costa Rica
Latin American Biblical University
Presbyterian Church (USA) Mission Co-worker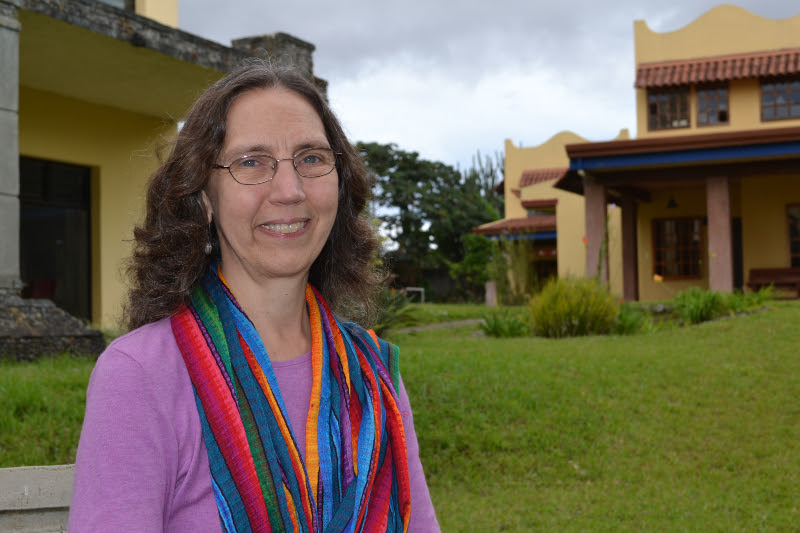 Dear companions in mission,
Watch and wait. Toward the end of the gospel according to Mark, in the text the lectionary offers us for the first Sunday in Advent, Jesus tells his followers to watch and wait when they hear news of events that cause human suffering. The Son of Man, the Human One, is coming, but no one knows when.
Watch and wait. It seems I have been watching and waiting through recent weeks. In November, we watched and waited as first Hurricane Eta and then Hurricane Iota, fed by the warm waters of the Caribbean, churned away before making landfall in northern Nicaragua and tearing across Central America. There is no need to wait any long for the impacts of climate change; they are already here.
Watch and wait. In many places in Nicaragua, Honduras and Guatemala, people are watching and waiting for the flood waters to recede to see if there is anything left of their homes, their farms, their dreams. In crowded and makeshift shelters they are watching and waiting for help to arrive. Weak governments riddled with corruption have little ability to respond to the magnitude of the need. Presbyterian World Mission and Presbyterian Disaster Assistance are moving to send initial solidarity grants to mission partner institutions in Nicaragua, Honduras, Guatemala and El Salvador. Please follow the link below for more information about how you can help in these efforts.
Watch and wait. The whole world is watching the surging Covid-19 pandemic. The daily figures for new infections and deaths from the United States are greater now than for the entire ten-month course of the pandemic here in Costa Rica. My Facebook feed is once again full of news of friends and family members of friends who have fallen ill or who have died from the virus. The whole world is waiting for the vaccines, though in these small countries of Central America there are many questions about who will have access and when. It seems many people have grown tired of waiting to be with family and friends. Just as in the United States, small social gatherings are the greatest factor in the spread of the disease here.
Watch and wait. Professors watch and wait while students prepare final papers at the end of the academic year. This year there are more obstacles than usual: a laptop ruined by flood waters, marches to protest the removal of Peru´s president by that country's congress, and Covid-19 infections. Yet our students press on, believing that theological studies will be a light for their path into the future. Registration for the coming academic year is now open here at the Latin American Biblical University.
Watch and wait with thanksgiving. I am thankful for many things during this pandemic, not in any particular order. For this beautiful house and garden that have been our refuge and shelter. For the many species of birds who visit daily. For conversations with our daughter. For our dogs and my cat who accompany me. For my colleagues at the Latin American Biblical University who are giving so much of themselves in spite of restrictions and salary cuts. For my students who reward my efforts with ever more profound questions. For the technology that allows me to connect with students, churches and friends around the world.
I am also grateful for those who are reading this letter. Your prayers and gifts make it possible for me to continue to serve here in Costa Rica with Presbyterian World Mission, despite all the shifts and changes the pandemic has brought. I hope by God's grace and with your support that I can continue accompanying our students in the coming year.
As I close, I want to share a special announcement. My husband, Javier Torrez, has spent this time of staying at home by organizing the poems he has written over the decades to publish in a book. Through his poetry, Javier tells the story of his generation of Nicaraguan Christians whose faith moved them to get involved in the revolutionary struggle. He also touches on other parts of his life, including our decision to join our lives together and start a family. The final poems in the collection denounce the current dictatorship in Nicaragua. Javier will be presenting his book via Zoom and Facebook live on Saturday, December 5th, at 2:00 PM. Let me know if you would like information about how to join the celebration, which will be in Spanish.
Watch and wait. With the start of Advent a new liturgical year begins, even though the calendar says there is still a month left to go in 2020. The new emerges within the old, if we can perceive it. Watch and wait is not a passive stance, but rather a call to an active yearning for a world renewed. The Human One is coming; we are not left on our own.
In Advent hope,
Karla