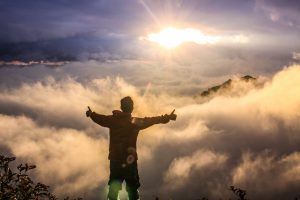 Soren Kierkegaard once wrote, "Life is not a problem to be solved, but a reality to be experienced." Is Christian faith more about solving the problem of sin, or the adventure of living a happy life? Have we overemphasized the first, and tended to ignore the second?
In this new sermon series, beginning September 16, Jeff Vamos and several other preachers will explore questions around Christianity and happiness. Can we pursue happiness, or does happiness…happen? And if happiness is attainable, are there ways we can practice life – just like learning the violin or becoming a black belt in Karate – in order to cultivate the human flourishing that is God's intention for us?
Modern science has also given us new data about what people can do to cultivate human flourishing. The relatively new field of positive psychology sheds new light on how we are what we think. And what we think can literally change our brain. Scientific research now shows that the same practices that Christians have encouraged for centuries – based on virtues taught by the ancient Greeks – have been proven to open us to the experience of abundant life – the kind of life Jesus came to give us (John 10:10).
The series will extend through the end of October, and we encourage all to attend the 10am service to follow along. Those who are unable to come to any of the sermons can also listen to the sermons online.
Click below listen to all the sermons in this series.
Sermon 3: Learned Helplessness, Learned Hope
Sermon 4: The Way of Forgiveness
To enrich your learning through this sermon series, here are some accompanying resources to explore:
Recommended reading and study:
The Gospel of Happiness; Rediscover Your Faith through Spiritual Practices and Positive Psychology, by Christopher Kaczor, is an excellent primer on the material we'll be exploring in the series, and is very accessible. (Don't judge the book by its title!)
Gratitude Works! A 21-Day Program for Creating Emotional Prosperity, by Robert A. Emmons. It is an excellent primer on how to go deeper with the practice of gratitude, through journaling and other exercises.
The Daily Examen – is the foundational practice of Ignatian spirituality, and you can read more here about that practice – so similar to the practices developed through positive psychology.
"This is Your Brain on Habits" – An article that provides an introduction to the brain science and positive psychology practices around forming habits – breaking bad ones, and adopting new positive ones.
Positive Psychology Courses
For further learning about positive psychology, two free Massive Open Online Courses (MOOC's) through Coursera are recommended:
Positive Psychology: Martin E. P. Seligman's Visionary Science
Finally, for anyone following along here, we invite you to share your comments, insights and questions in the comments section below.