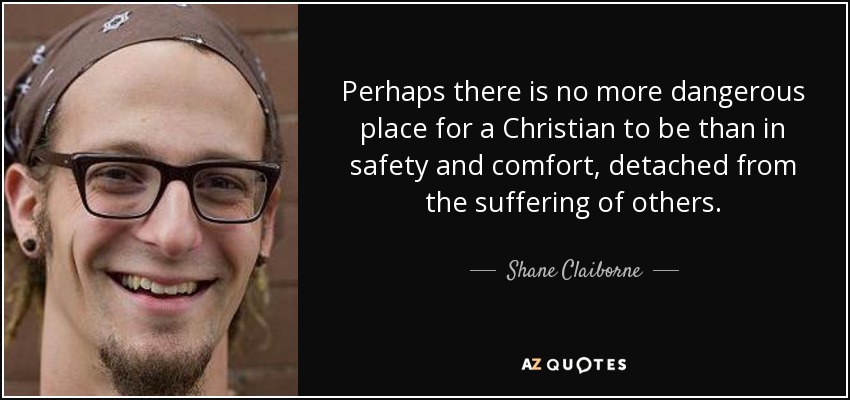 This Sunday, we will welcome special guest Shane Claiborne, who will be preaching at the 10am and the keynote presenter of our mini-conference on faith and justice. There's still time to register for any part of the conference. Please note that worship is of course free, and Shane's presentation at 2:30 is also free. You may register for lunch and the workshops separately. For church-members, you may also select a lunch only ($10) option; simply use the code "Lunch" when signing up.
See you Sunday!
Some Quotes
"Christianity can be built around isolating ourselves from evildoers and sinners, creating a community of religious piety and moral purity. That's the Christianity I grew up with. Christianity can also be built around joining with the broken sinners and evildoers of our world crying out to God, groaning for grace. That's the Christianity I have fallen in love with."
"And I think that's what our world is desperately in need of – lovers, people who are building deep, genuine relationships with fellow strugglers along the way, and who actually know the faces of the people behind the issues they are concerned about.
"Only Jesus would be crazy enough to suggest that if you want to become the greatest, you should become the least. Only Jesus would declare God's blessing on the poor rather than on the rich and would insist that it's not enough to just love your friends. I just began to wonder if anybody still believed Jesus meant those things he said."

"We do need to be born again, since Jesus said that to a guy named Nicodemus. But if you tell me I have to be born again to enter the Kingdom of God, I can tell you that you have to sell everything you have and give it to the poor, because Jesus said that to one guy, too. But I guess that's why God invented highlighers, so we can highlight the parts we like and ignore the rest."