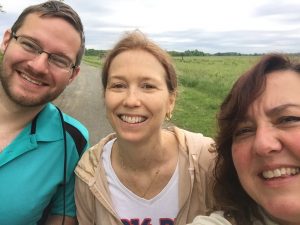 The first-ever (to our knowledge) PCOL birding event took place at 8:00 a.m. on May 22, in the Pole Farm District of Mercer Meadows.  Team Captain, Merideth Mueller led teammates Peter Billings and Jill Cifelli on a tour of Mercer Meadows, tallying 20 species for an hour-long event.   Highlights included Yellow Warbler, Brown Thrasher, Bluebird, and Meadowlark!
A similar event is planned for Tuesday, May 29 at 8:00 am.   ALL ARE WELCOME!  Whoooooooooo wants to come?! 
We'll meet at the Reed/Bryan Farm in Mercer Meadows on Federal City Road (just five minutes from church).  We should be done by 9:30.  Bring binoculars!
The loop provides some varied habitats: field, stream, brushy shrubs and woods. The potential list is at least 35 species!
"Guaranteed" Birds:
Bluebird
Goldfinch
Tree Swallow
Meadowlark
Red-winged blackbird
Common Yellowthroat
House Wren
Song Sparrow
Yellow warbler
Potential Birds:
Kestral
Grasshopper Sparrow
Indigo Bunting
Bobolink
Field Sparrow
Prairie Warbler
Towhee
Wood Thrush
Veery
Redstart
Eastern Screech Owl
Great Horned Owl
Email Merideth at mmueller@pclawrenceville.org or call the church office by Monday at 3:00 to RSVP your spot on the team.  Bring binoculars!