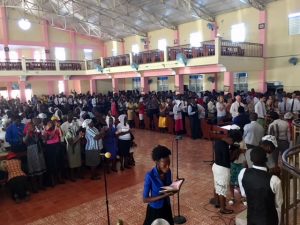 PCOL received an update on the situation in Haiti from Pinnacle Pres (Arizona), which also works with Pastor Luc and Harmony Ministries:
Perhaps many of you have read or heard about the widespread and often violent protests in Haiti recently.  Frustration with high fuel prices, intermittent electricity, rampant inflation, and the Petro-Caribe oil scandal has led to demonstrations and calls for the resignation of president Jovenal Moise.  In addition to the protests, there was a transportation strike yesterday and today, and without tap taps there's no way to get around Port-au-Prince without a personal vehicle. Banks and schools were closed yesterday and today.
I talked with Pastor Luc last week and again today.  He is safe, but is staying at home today as most are advised to do so.  He was not able to go to church on Sunday, but services were held and led by Deacons for people who live nearby and were able to attend.  The same will be true for Tuesday night church tonight.  The school in PAP was closed yesterday and today but will reopen tomorrow.  June is the time for final exams and national testing, so always very important in the Harmony schools and all of Haiti.
The village schools and churches are operating as normal; the protests and road blockages are largely in Port-au-Prince or the roads between major towns.
The State Department just lowered the Threat Level from 4 (the most restrictive) to 3 for Haiti, but still advises against travel there.  They are sending staff back to the Embassy.  It's not clear to me how they determine the threat level.
We sent checks to Harmony Ministries two months ago, but a series of challenges has led to delays in getting and utilizing the funds.  Agape Flights, which carries mail from the US to missionaries in Haiti and elsewhere in the Caribbean, had mechanical issues which grounded their main plane for 7 weeks.  Once it was up and running again Pastor Luc was able to get his mail and checks, but the roads and/or banks have been unsafe because of protests so he has not cashed or deposited them yet.  The checks were for food and medicine, construction in Leogane, painting the exterior of the school in PAP, and an undesignated gift.  He thinks he will be able to get to the bank this week.  However, work in Leogane and PAP is not likely to begin until July and/or when the protests calm down.
Life in Haiti is hard.  Pray for the people.
Meanwhile, Priscilla has finished her second year of college and is heading off to nursing school at Chamberlain University.  Timothee has finished his freshman year of college.  Both are doing very well.