Children's Ministries Fundraiser at Amalfi's
We have joined with Amalfi's Restaurant & Bar for a fundraiser.
All day, Wednesday May 1st, present the following coupon while ordering and Amalfi's will make a 15% donation to our church.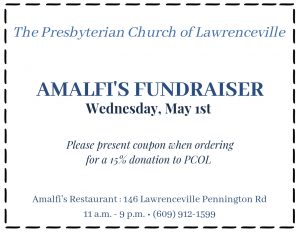 Physical copies of the coupon are also available on the Church's literature tables and in the April newsletter.
Amalfi's : 146 Lawrenceville Pennington Road Lawrenceville, NJ 08648  –  (609) 912-1599