Men's Retreat 2020: Country Music of the Sacred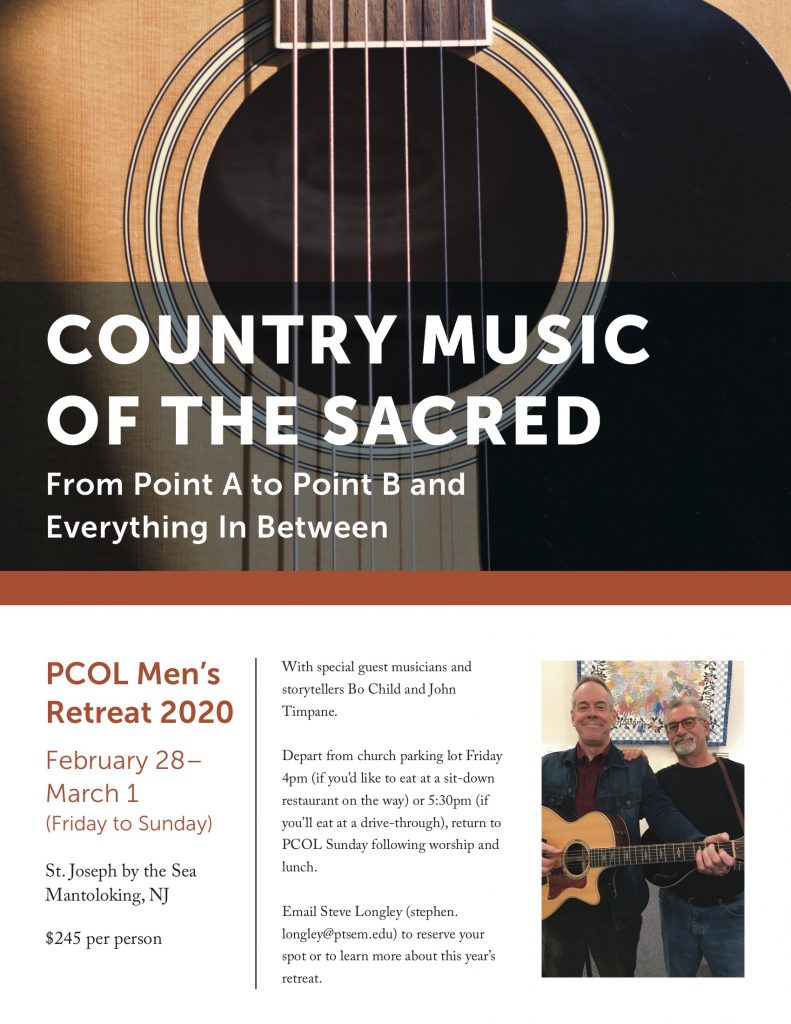 St. Joseph by the Sea
Mantoloking, NJ.
February 28-March 1, 2020
$245 for two nights/five meals
Limited scholarships available
Country music is a very broad category, encompassing a wide variety of musical styles, such as folk, western, traditional and…country! One of the key marks of country music is of course narrative: every song tells a story. And much of the genre of country music touches on the sacred, especially the challenges and pitfalls involved in the journey of life. It's about how I got from point A (lost my girl, wrecked my truck, buried my dog, got way drunk), to point B (I found the strength to get through). We'll explore many versions of that story – told in country music, and recounted in our lives, as we welcome two very special retreat leaders: Bo Child and John Timpane. Bo is, one might say, the hub of the musical wheel that is the jazz/folk scene in our town. John Timpane is a published writer and editor (one of his most well known books is Poetry for Dummies); an excellent guitarist and flautist; and an all-around very knowledgable guy about music.
If you play an instrument, bring it! We'll spend some time jamming.
But the main point is to relax, connect, and reflect in the beautiful setting of the Jersey Shore. Sign up now, since this year there are very limited space available.
(Note: we've raised our retreat price, since our costs have gone up, and because of the quality of our program this year!)
Arrival and Departure: Depart from church parking lot Friday 5pm (if you'd like to eat at a sit-down restaurant on the way), return to PCOL Sunday following worship and lunch.


Registration: Please use the button to go to our registration site.